DRINK LIKE YOU GIVE A DAMN
DRINK LIKE YOU GIVE A DAMN
When what you drink matters, it's not just about the flavor— it is about knowing how it's made. How ingredients are sourced, and who benefits from growing them. Knowing what the people who make the spirits think, what matters to them, and how they participate in the making.
We are a self-taught collaborative
We are anchored in the roots of tradition and yet each inspired by unique cultural impulses.  We embrace the scientific method, even as we collect artistic perspectives to blend with the distilling process. As a group, we're driven to tinker and test. We are pushed to re-think the creative process the way disruptive musicians, chefs and painters do. We experiment with ingredients and how they're sourced, with distilling techniques, with ways of finishing—always informed by hard-won knowledge.
We're distilling  ideas — disruptive, beautiful ideas— into flavor and always seeking a better way.
The members of our team have experienced so many things—searched for oil, designed buildings, cooked over campfires, served in the military, created art, played rock and roll. All these experiences lead us in our exploration of spirits.
Our talented team of rebels have a clear cause – to make the best spirits that purposefully break from convention in order to create something new, or even curious.
We are all collected at Treaty Oak because our founder believes in the creative yield of eclectic experiences.  We're here because of the question "what if …?"
The people of Treaty Oak believe in everything that got us here.  But more importantly, we believe all of that is enough to help us create the next great spirit.
A SPACE FOR THE POSSIBLE
HISTORY
Founder & CEO, Daniel Barnes
Grew up in West Texas with parents who owned a restaurant and motel. Inspired by their work ethic, Barnes chose to follow suit and become an entrepreneur. In 2006 he founded Treaty Oak Distilling, it was then the fourth distillery operating in Texas.

"We strive to strike the perfect balance between heritage and innovation. Our willingness to be different based on knowledge and expertise is what sets us apart."
Treaty Oak Distillery is named after the famous 500-year old tree in Austin, under which Stephen F. Austin signed agreements defining the borders of Texas. Our gins are called Waterloo, after the original name of Austin. We moved to Dripping Springs, a place with a rich history of gatherings and shared perspectives. 
In 2016, Daniel headed the expansion of Treaty Oak by moving to the 28-acre property in Dripping Springs, Texas, that is now open to the public for food and beverage service, as well live music, a ground breaking Cocktail Lab, and room for the ever expanding whiskey and gin production.
TREATY OAK DISTILLATION
The wide variety and numerous sizes of stills we have running has given us a depth of knowledge of distillation that allows us consistency and quality. That search for consistency has led us to the column still. We have incrementally scaled up from a 5 gallon pot still to a continuous column.
BARRELS
We purchase all of our barrels from Kelvin Cooperage in Louisville, Kentucky. They are a smaller operation with a similar attention to detail that we have. They are flexible and excited to try new techniques and varieties of oak so that we can zero in on the exact bourbon profile that we desire. Our current barrel is a Char 3. One of the defining points of their process is that they toast the barrel before they char creating a better caramelization of the oak.
TEXAS SUN
Central Texas has a very different climate than Kentucky and other areas producing bourbon. The wide swings of temperature and humidity allow for a maturation that is specific to the weather of the hill country. Especially the winter northers that can go from 85 to 25 in the course of an hour is a perfect environment for the spirit to flow in out of the barrel, picking up all the flavors along the way. Our non climate controlled rickhouse was designed to showcase the environment and seasons that we experience. Our bourbon tells that story
Importance of ingredients
Our Partners
A product is only has good as the ingredients that are sourced. We take special care to work with partners that have the same vision and passion for pushing boundaries as we do.
Citrus from the Texas Valley with superior quality & flavor used in our Waterloo Gin and cocktails

Produces the world's fastest growing citrus trees using micro-budding and a proprietary and all-natural grafting technique

USDA Certified
90% of grains are grown by Texas farmers, using sustainable organic practices

Honorary James Beard award – heirloom grains, non GMO

In planning stages to build a mill onsite at Treaty Oak

Placing Treaty Oak at the forefront of the heirloom grain movement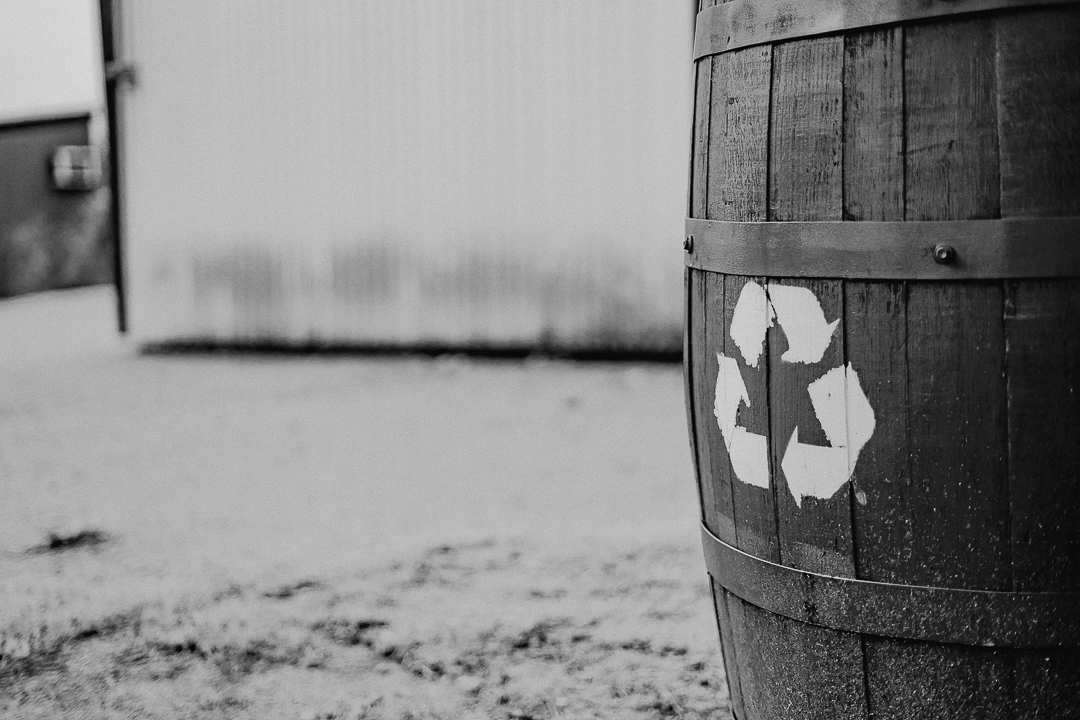 CLOSING THE loop
SUSTAINABILITY
At Treaty Oak, we're striving to capture the spirits of a place, but more—we believe in taking care of the people and the place that inspires us. We are part of a community of hard working folks who understand the value of healthy soils and clean water. We care so deeply about practicing sustainable processes that we've hired a specialist, Jamie Biel, to assess our operations from top to bottom in an effort to find ways to increase efficiency of water and energy usage, decrease waste and carbon footprint, and ensure responsible sourcing of our raw materials. At Treaty Oak Distilling, doing things right not only feels good, its tastes good, too.
Jamie Biel, Director of Science and Sustainability
Awareness & Education

Water and Energy Efficient Operations Equipment

Carbon Footprint Reduction

Plant a Tree for Each Barrel Sold

Re-utilization of Wastewater

Standards for Suppliers

Local Sourcing
"There is so much potential to respectfully integrate our processes into those nature has established in terms of water, energy, and waste. We plan to demonstrate that it is possible to blend economy with ecology in the pursuit of the curious." Jamie Biel
Water
Pure, crisp water is the basis for all of our products and it's the lifeblood of the Hill Country. We are constantly improving our processes to use water more efficiently, reduce usage, and reuse wastewater wherever possible.
Energy
Our operations equipment is highly efficient. By moving to steam injection and continuous column distillation, we reduce the amount of energy required to heat and cool our bourbon mash. Future plans include a photovoltaic solar array and biogas generation.
Waste
We manage our waste by farming it out. Spent grain goes to local farmers to feed livestock, is dehydrated and compressed into dog treats, or is composted and used to feed the garden.
Land
We're careful with the land. We plant native flora, build berms to reduce erosion, and restore riparian areas. We grow our grain, herbs, fruits and vegetables organically and use them in the restaurant, distillery and brewery.
Sourcing
We source our grains and citrus locally and mill them centrally, which cuts our carbon footprint. We know farmers whose hard work keeps them connected to the land. We want our work to make theirs more fruitful.